Creative Writing & Journaling Book Recommendation by IAJW.org Director, Lynda Monk
Introduction to my Book Recommendation Series: 20 Favourite Books to Get Creative with Your Journaling and Writing
As a Writing for Wellness Coach and Author, one of my favourite go-to practices for my own self-care, creativity and personal growth is journaling. I have journaled since I was a young girl, and I could never have known all those years ago how central journaling would become to my life and work.
As the Director of the International Association for Journal Writing, I regularly offer journal coaching programs, online courses and virtual retreats. I also frequently facilitate writing circles, lead interviews with experts in the field of expressive writing, and create new journaling courses, tools and other offerings for members in our global community of journal writers.
As a writer, I love reading!  Maybe you can relate?  I have thousands of books and I get tons of inspiration from the words and ideas shared by others. In this new book recommendations series on our journaling blog, I want to shine a light on a number of books that have given me lots of ideas for my own writing practice and hope these book recommendations and my comments about the book will have value for you too! I am also including tips for how you can bring journaling into your coaching or transformational work if that is relevant to you.  Enjoy!
I strongly believe that journal writing is a valuable tool for individuals, coaches and clients alike for many reasons:
Its central purpose is to gain self-understanding through expressive writing, reflection, inquiry and story.
It works with themes, metaphors, the senses, memory and language.
It's a form of creative self-expression with many proven benefits, including health, healing and wellness, as well as personal growth opportunities.
It can support who we are and what we do as coaches in helping others to deepen their learning and forward their inspired action in alignment with their core values and goals.
We and our clients can go to the page to know, grow and care for themselves.
As you read this book recommendation including my reflections on the book and ideas for how you can use some of the key ideas in it…
I encourage you to let your imagination roam freely and think about how you can use some of these books and ideas within your own life and within your coaching practice, if relevant. Perhaps you'll get some fun ideas for exercises in your workshops or group coaching programs, spark some creative homework/playwork activities for your clients or get inspired to deepen your own journaling practice as a coach or as a journal writer.
Book Recommendation by Lynda Monk
Writing Wild: Forming a Creative Partnership With Nature
Author: Tina Welling 
Why I love this book: This is one of my favourite books on nature journaling. It looks at how we fully inhabit place, how we connect with and honour the earth, while also being deeply rooted in our awareness of self—living in our own skin, our own nature, supported by the greater nature around us.
The author says, "Creating and healing are soul work, soil work." I love how she offers many nature metaphors and analogies, connecting the outer world with inner-world truths and explorations.
Ideas to use this book in your coaching:
I have always enjoyed both nature-based journaling and coaching in the great outdoors. I've facilitated group coaching sessions and workshops, or parts of them, in parks, on trails in the forest and at the beach.
In this book, the author provides creative "Try this" exercises in every chapter. For example, she suggests:
Take your notebook outside and choose a fallen leaf, a frosted twig, a teaspoonful of dirt, and experience this small piece of nature and yourself interacting with it.
Do this by first naming, then describing, then letting memories, ideas, wishes, and concerns stir within you.
Whatever occurs to you in the moment, you're to trust, for it is yours and yours alone, inspired within you by your openness to nature in this time and in this place, with each step in accordance with mystery and chance.
You could give nature-inspired journaling activities like this to your clients and explore their insights in your coaching session.
Ready to read it!?
IMPORTANT NOTE: Whilst Amazon is a convenient way to purchase books, many local community bookstores are struggling to stay alive. If you can, why not order your book from your local bookstore, both boosting your local economy and supporting a fellow small business owner? Or consider using Bookshop.org (which gives money back to small bookstores).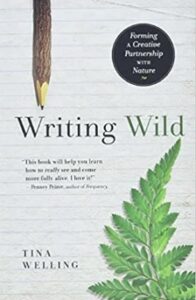 20 Journal Prompts & Affirmations to Express Greater Gratitude, Abundance & Appreciation in Your Life!