Your Complete Guide to Getting Started with Journaling
Do you want to learn how to journal, but are unsure where to start?  Or you want to know what to write in a journal?  Maybe you've heard of creative journaling and are curious what it is? Perhaps you're a writer and want to journal to deepen your craft?
This comprehensive "How to Journal" article will answer all of your questions about journal writing. For example, what journal writing is, how you can use it, and what benefits you can experience from this type of writing.  It also includes many journal writing prompts to help you get started. Lastly, while journal writing is typically a solitary act, you don't have to journal alone or in isolation.  This article will tell you where you can get some help and support for your journal writing, including being part of a journal writing community or group.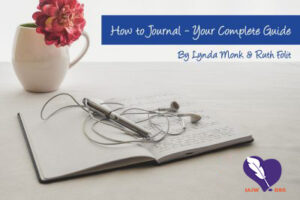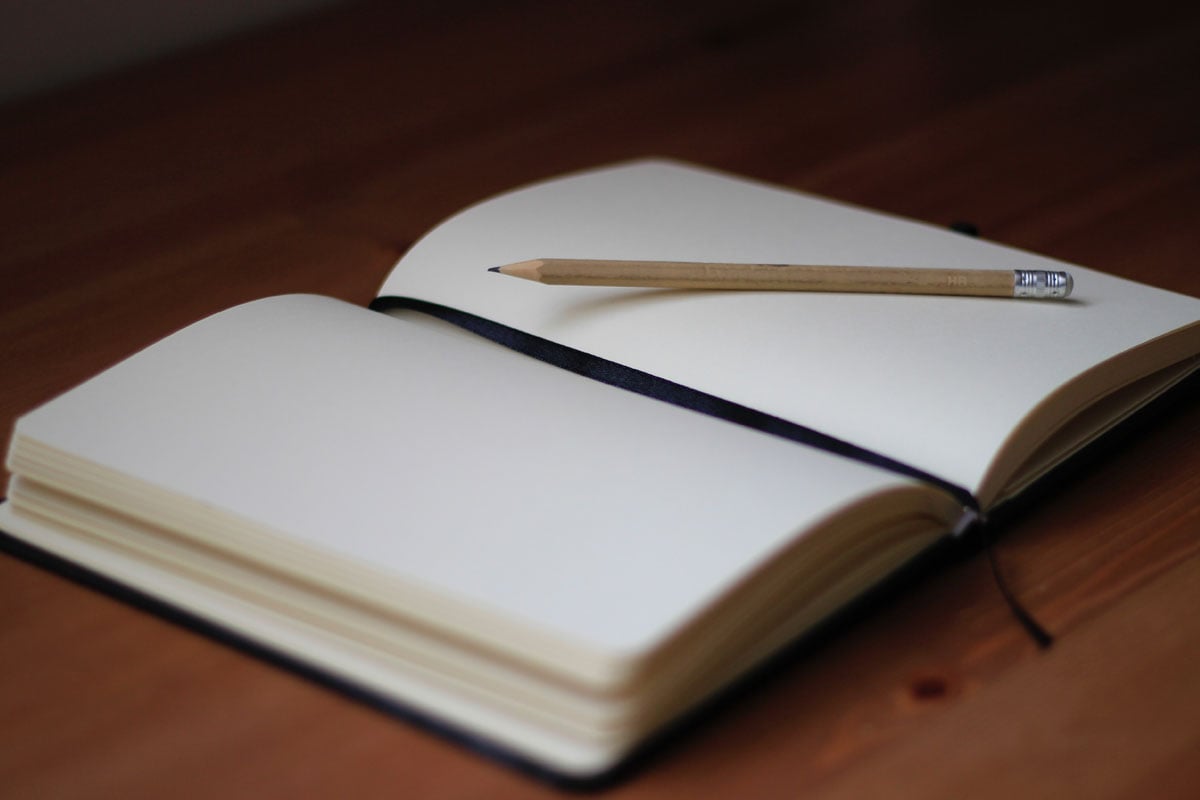 What is Journal Writing?
Before we talk about how to journal, let's look at what journaling is.
Journal Writing is the practice of taking time for yourself to write and reflect on your thoughts, feelings and life experiences.  There are many suggestions for how to journal and what to write about. However, the beauty of journal writing is you can do it in your own way. This means you can really make it your own creative and life enhancing practice.
There are lots of people who write in a journal.  I recently heard that 16% of the world's population regularly writes in a journal. You could loosely test this claim yourself by asking a group of friends or family if they write in a journal and see what percentage say yes.
Each person will give a slightly different answer when asked, "What is journaling?" But in essence, journaling is the simple and profound act of capturing and understanding our lives through expressive writing and story. Expressive writing includes writing about our thoughts and feelings while gaining self-awareness and new discoveries along the way. Journaling is all about exploring and enriching life through narrative, words and creative self-expression through writing.
Journaling is…
a powerful tool for personal growth, self-discovery, improved health and creative self-expression
a fun and creative life enhancing practice
used by many successful people, including Oprah and Jack Canfield (author of Chicken Soup for the Soul books), to achieve success in life and work
"Journal writing is one of the rare forms of writing in which freedom of form and content support each other magically."  – Stephanie Dowrick
What Can I Use Journaling For?
You can use journal writing to get to know yourself better, solve problems, make life decisions, improve your health and increase feelings of gratitude and joy.  Journaling can also help you heal from stressful life circumstances, deal with grief and loss, or other life transitions. Or just journal for the pure love it!
Journaling is a fun, nourishing and creative practice that simply requires something to write with and write on. Whether it's a pen and notebook, loose paper, cue cards, you get to choose your journaling tools!
People use journal writing in different ways for a variety of reasons. One person might journal to heal a broken heart writing an unsent letter sharing what they wish they'd said to that person.  Someone else might journal to celebrate their accomplishments and make a list of their recent successes in their journal.
There are also a wide variety of journaling methods and techniques to get the most out of your journaling. You can use it for whatever matters most to you at this time in your life.
How to Journal – What are the Benefits?
There are many evidence-based benefits of journal writing from over 30 years of research in the expressive writing field.  Yes, journal writing is a field of work!
People use the journaling process for many reasons, including to:
stimulate a healthier mind and body
vent and express thoughts and feelings in a healthy, constructive manner
increase self-awareness
create clarity for decision-making
track progress and personal growth
celebrate successes
heal emotional pain and trauma
manage stress and prevent burnout
gain broader and multiple perspectives
practice writing in a non-judgmental setting
improve creative thinking
preserve memories
get closer to God or a divine energy source
Today, journaling is widely accepted as a means for cultivating wellness as part of a whole person health approach. This includes the emotional, physical, psychological and spiritual dimensions of well-being. Journaling is also being used across various disciplines, such as education, psychology, leadership, business, health, creative writing, coaching and counselling fields, as a powerful tool for learning and growth.
How to Journal – Getting Started
Get Organized
One of the first things to do when you start a journal is get your journaling tools organized.
It can be fun to pick out your favourite pen and an inspiring journal. Look online or go into any book, stationary or office supply store and you'll find all kinds of journals, pens, markers and other things you might like to use in your journal such as stickers or other creative touches.
So over time, you can experiment with your journaling tools. Do you like blank pages or lined? Would you prefer a small journal or a large sketchbook style journal?  Would you use the same style journal or mix it up and try something new each time you begin a new one?
Sometimes people use loose leaf paper and put their journaling pages in a binder, or write small entries on cue cards. And some people even use big 18 x 24 pages of paper for larger visual journaling entries. You can create a mixed media art journal and much more.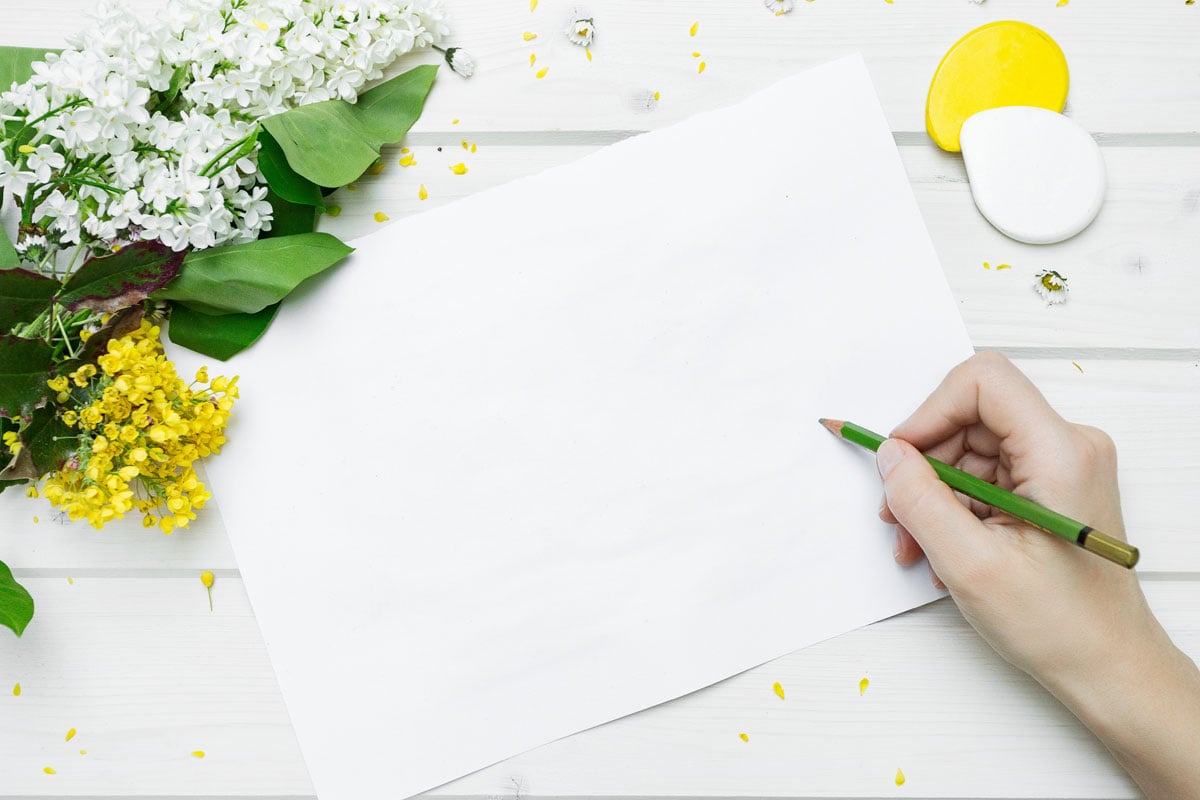 Just Write!
The key is to pick some simple journaling tools to start with – a pen and notebook – and just start writing.
Your writing will teach you what you need. For example, I used to write in a small lined journal and over the years, my writing longed for larger, open, clear spaces to fill. Now I use an 8 ½ by 11 blank page sketchbook, spiral bound and I keep my pilot pen in the spine of the journal.
Find your own tools and make your own way as you write. The only way to journal, is to write. And then write some more.
Whether you're an avid journal writer, someone who journaled in the past, or have never written in a journal before:
"There is a Spanish proverb which says: there is no road, we make the road as we walk. I would say the same thing about journal writing: we make the path as we write." Christina Baldwin
How to Journal – Creating Writing Rituals
What is a Journaling Writing Ritual?
Dr. James Pennebaker, author of Writing to Heal: A Guided Journal for Recovering from Trauma & Emotional Upheaval, suggests some conditions that help enhance the expressive writing process.  His research shows that creating a journal writing ritual is very beneficial.
Being focused, non-judgmental, and connected to your interior world fosters deeper writing. But, it's not a frame of mind that everyone can simply switch on and off.
The idea behind creating a ritual is to create a unique environment and/or behavior which helps you sink into the best journal writing mindset possible. The purpose of the ritual is to take you away from everyday life. Your ritual contains the cues you create for yourself which help you become relaxed, alert, and reflective.
How do you Create a Journal Writing Ritual?
Here are some suggestions, but remember, the ritual you create to transition into deeper journal writing is uniquely yours.
Select some music that creates a sense of serenity. Play it for five minutes, focusing on simply listening to the music. Consider closing your eyes. Do not read your mail or straighten out your desk! You may want to have just one piece of music you use each time as your centering pre-writing ritual. Or choose three or four pieces you love for some variety.
Begin with several minutes of a meditation or a prayer. You can write just for the occasion or create something spontaneously each time.
Brew a cup of tea or coffee, or pour yourself some fresh juice. Perhaps a glass of wine? Spend a few minutes holding the cup, feeling the warmth, smelling the aromas of your drink and deeply enjoy those sensations.
Write in an environment that's inspiring for your journal writing
This could be by a bright and sunny window or a softly lit corner nestled in a cozy chair.
Light a candle and while lighting the candle say an affirmation, your intention or make a wish.
Journal at approximately the same time each day
This doesn't have to be at the same hour each day, but it's helpful if it's at the same time in your daily routine. For example half an hour before bed, which will work whether you go to bed at 10pm or at midnight.
The trick, of course, is to find the cues that help you settle in quickly. Initially, experiment with different rituals to see which feels best and then stick with the practice once you've found one you like. Remember to use as many of your senses (smell, sight, touch, hearing and taste) as you can when creating your centering ritual.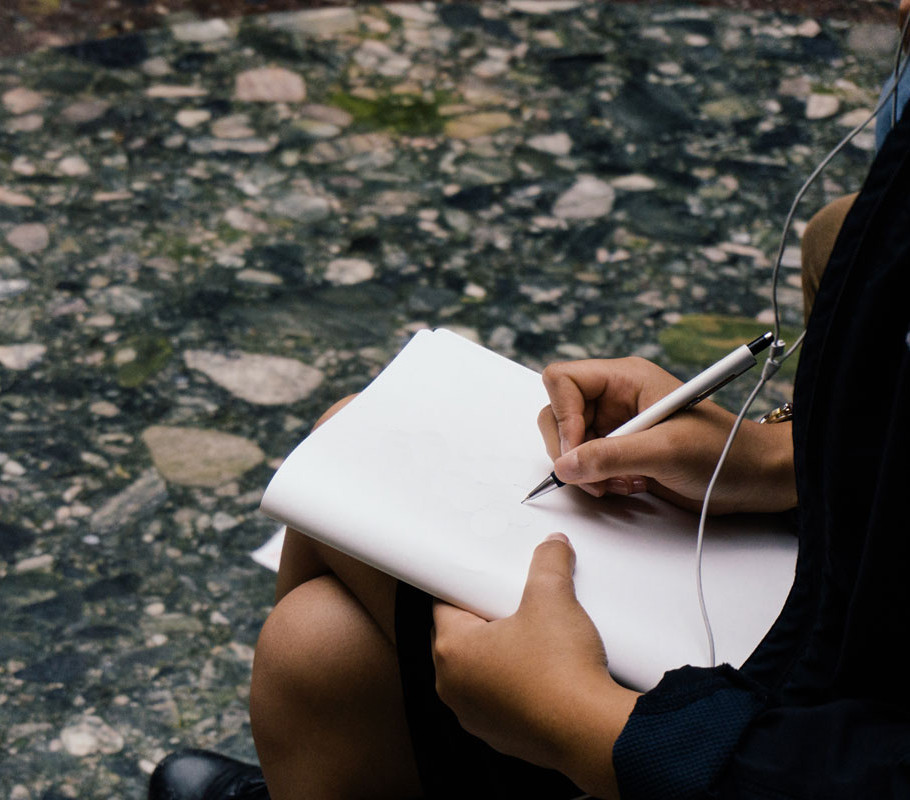 How to Journal – What To Write
You can write about anything you want to write about. For example write about your day including your thoughts, feelings, problems, challenges, upsets, joys, successes and dreams. Here are some journaling prompts to help you get started:
Right now, I am feeling…
In the moment, I notice…
Currently, I am thinking about…
So far, the best part about my week is…
You can also write about what you don't want to write about—and explore your resistance!
Resistance offers you information about where you're feeling stuck, perhaps procrastinating, or simply not quite sure how to proceed. Here are some journaling prompts to play with around resistance:
At the moment, I don't really want to write about (and then write about it anyways)…
I am feeling resistant because…
If I wasn't feeling resistant, what might be different in my life right now…
You can free write (simply go to the page and start writing) or you can do more structured journal writing activities such as using prompts.
There are many other journal writing techniques and methods such as mind maps, cluster drawings, dialogue writing, captured moments, poetic writing and more that you can learn about and use to keep your journal writing fresh and interesting.
Access our free 7 Servings of Journal Juice for new ideas on what to write about in your journal. And you'll also receive journal writing prompts, exercises, tips and our inspiring Journaling Museletter.
How To Journal – How Often Should I Write
There are no rules about how often you should write in your journal. Like anything, the more often you do something that's good for you, the more benefits you get from it. I doubt you would go for one walk around the block and expect to experience significant health benefits from it.
The same is true for journaling. While that one walk would have offered you 'in the moment' benefits like time to relax, feeling good from moving your body, fresh air and more, the same is true for journaling.
You could gain a sense of relief, renewal and replenishment from just 10 minutes of writing about your thoughts, feelings and life observations.
Journal Regularly
Much like any other activity that's good for you like brushing your teeth, meditating or eating a healthy diet, journaling can also be done regularly. Journaling makes a great healthy daily habit.
Set a Timer
I often facilitate timed journal writing exercises in workshops and retreats that I offer. It's a core part of my Transformational Writing for Wellness Salon, a 6 week group coaching program that takes people into the heart and art of transformational journaling.
So often people say, "I can't believe how much I wrote in just 5 minutes" or "I can't believe I gained new insights when I just wrote for 7 minutes!"
Journaling to Cope
Many people only write in their journals when they are going through difficult times. Then once things are going better, they stop writing. This is also a valuable way to use your journal as a life companion to help you cope during stressful or troubled times.
The key is not to get too caught up in "shoulds": I should journal today, I should journal more often. That's because 'shoulds' can open the door for negative self-talk and feelings of inadequacy and shame. Instead, your journaling practice is best treated like a kind friend. You journal because you want to, and because it's an enjoyable, or at least helpful, relaxing experience.
Do You Need to Write Regularly in a Journal?
It's a question that most journal writers face at some point. Does it matter if you write often in your journal? Well, whether you write regularly depends on your purpose for writing. Is it to preserve memories? To sort out issues? To track physical or emotional, spiritual, or intellectual progress? Track health symptoms?
If journal writing is pleasurable, then writing is its own reward. If journal writing becomes a task you "should" do, rather than something you enjoy, then you'll write less consistently.
So part of the issue can be reframed by asking, "How do I make journal writing pleasurable?" The answer to this question will help you find your own way to make journaling a consistent and enjoyable habit.
How To Journal Consistently –  Creating the Journaling Habit
Think of writing a journal entry as the lowest cost and highest benefit way of taking care of your health. Remember that writing about meaningful events or activities in your life has been proven to positively impact your overall health without major cost of time or money and without having to leave your home!
If you do want to write in your journal on a regular basis and truly create the journaling habit, here are a few ideas to help you keep writing consistently:
Make your journal writing more upbeat
Review the good things that have happened in your day—your attitude, your progress toward a goal, a minor victory, even a two-minute interaction with someone that went well.
Remind yourself about the good stuff in your life and your good qualities.
Write when you have difficult issues in your life that need to be resolved
Who doesn't experience difficult times? Consider the time that you write in your journal as an oasis of self-nurturing in your day. It's a time to vent, rant, reflect, and process just for you.
If possible, write at the same time every day
Incorporate your writing practice into a daily routine.
Make it short and fun!
Write a one-word journal entry that captures your day.
It's a challenge to come up with that one word. You can think about it while you are doing some mindless life maintenance activity—like flossing your teeth, taking out the garbage, or folding clothes.
Then once you've determined that word, writing your journal entry takes almost no time.
Back to the question: Does it really matter that you write consistently?
Writing consistently helps you maintain your journaling practice. It means that when you re-read your journal, there are enough entries to have meaning and flow.
Your ability to write consistently in your journal will be determined by how you feel and doing what's right for you. So, while you're writing and when you finish, notice how you feel.
Did you like the process?
Were you feeling relaxed and soothed during or after writing?
Did you feel at times frustrated, angry, confused, despairing?
This whole spectrum of emotions is simply part of the process of journal writing. I know that I feel better most of the time after I write – like I've released a burden or relived a pleasurable part of my day.
How to Journal – What Help and Support Can I Get?
One of the best ways to learn more about how to journal is with the support of a like minded community. When we join with fellow journal writers there are regular opportunities to connect, learn and be inspired about journaling. People who like yoga connect in yoga communities, and the same is true for meditation, scrapbooking, running and more. There is a human instinct to find supportive communities who share our passion or interest, so we can learn and grow together.
At the IAJW, our journal writing community is for extroverts and introverts alike. Perhaps you want the inspiration and support of a community, but would rather sit back quietly and take it all in. Or maybe you want to chat with fellow journal writers live on our monthly Zoom Chats with guest experts. You can gain regular  help and support for your unique approach to journal writing.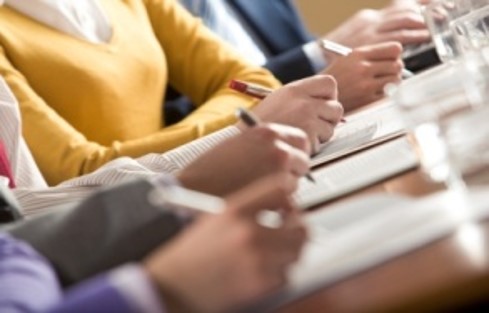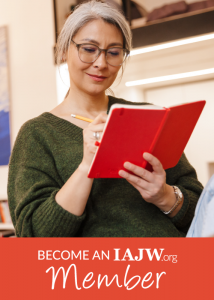 Join our Online Journal Writing Community
We know there is power in community. So come join fellow journal writers in the International Association for Journal Writing! We offer a learning and inspirational community for journal writers worldwide. Access monthly online writing circles, interviews with guest experts in the field of journaling and expressive writing, courses, journaling tools, e-books and much more.
We also have our Journal Writing Facebook group. Connect with fellow journal writers, receive journal writing tips and prompts to support you on your unique journal writing journey. Everyone is welcome!
Treat Yourself to a Journal Writing Retreat
Lastly, you might want to join one of our virtual Renew You Writing Retreats. Take 3 hours for yourself to journal in a guided and nourishing way. Whether you want to kick-start or reinvigorate your journaling practice, this retreat gives you time for creative self-care and renewal!
"Wow! What an awesome experience! I must admit I was a tad bit skeptical about an online retreat. But woah! Was I wrong! The Renew You Writing Retreat was so invigorating, uplifting, therapeutic, inspirational….just plain awesomesauce. Have you ever had an experience like that? You go in a little skeptical and come out blown away? Have you had the experience of being deeply inspired through writing and sharing with others? If not, you're missing out! Thank you, Lynda, for creating such a wonderful space and experience." Airial W. Dandridge, Certified Life Coach
How to Journal – In Conclusion
If you've read this far, I know you're passionate (or at least curious about) the many benefits of  journal writing. Journaling is an empowering experience because you're always the expert of your own life. Journaling helps you explore both your inner and outer worlds and make sense of your life experience.
As a Registered Social Worker and Certified Co-Active Life Coach, I have been immersed in human transformation, growth, change and wellness for the past 30 years. I've learned many different tools and techniques for self-care, healing and growth through my studies and first-hand experience. Journaling is my go to practice that helps me live an intentional, healthy and happy life. And it has helped many people to do the same! Including you, perhaps?
There is only one way to experience the many benefits of journal writing—pick up your pen and write!
"Writing was the healing place where I could collect bits and pieces, where I could put them together again…written words change us all and make us more than we could ever be without them." bell hooks
May your journaling support you to live an incredible life!