The Tale of the Traveling Group Journal
By Peter Allan
I've been thinking about one of the best jobs that I have ever had. This was in my mid 20's (see photo above – Peter Allan, Tour Leader on a break in Aspen, Colorado, 1983), and yes this will relate to journaling.
I was hired as a tour leader by Goway Travel, a company in Toronto that among other things ran adventure camping tours of North America for 18 to 35 year olds. They did some open age trips as well which added to the diversity. Based loosely on the famous European Contiki tours of the 1970s, our tours were four or six weeks long and folks could join for two weeks at a time.
The magic bus was a 14 passenger blue Ford with a roof rack up top. Trips would originate at the King Edward Hotel in Toronto and head west from there at a feverish pace, alas. Crossing never-ending Ontario heading west, would find us in Sault Ste. Marie on the first night, Thunder Bay on the second night. By the third night we were already in Winnipeg having a hayride. My fellow travellers would be amazed by the big muskie at Kenora, the big nickel in Sudbury, the big goose in Wawa, you get the picture.
Guests came from around the world: a Japanese nurse, a New Zealand sheep farmer, a Dutch student, a British football fan-all jostling together in a van heading west to Vancouver and then across the Northern US for the four week tour, or down the coast to California and then diagonally from there through to Arizona, New Mexico, Colorado, Michigan and back to Toronto in six weeks.
We were on the move virtually every day, sometimes driving for 700 or 800 km before arriving at our campground to set up tents and prepare the evening meal for the group. In other words there was lots of time in the van. The front passenger seat was the copilot seat and would be rotated. That individual would keep the music going from dozens of cassettes and pass back cool drinks from the cooler that sat between the two front seats.
As an side, I was a big fan of the Doors. My first musical request to the copilot on a particularly long and straight section of Highway one was a tape of their greatest hits. The song "The End" a startling and mesmerizing masterpiece had been used a few years earlier by Francis Ford Coppola in his unforgettable opening sequence of Apocalypse Now. As we motored along the highway through fields of wheat, Jim Morrison sang:
"Ride the highway west, baby
Ride the snake, ride the snake
To the lake, the ancient lake, baby
The snake, he's long, seven miles
Ride the snake
He's old and his skin is cold
The west is the best
The west is the best
Get here and we'll do the rest
The blue bus is calling us
The blue bus is calling us
Driver, where you taking us?"
It was one of those moments when an an artist steps right into the middle of your consciousness and your personal experience. The hair on my arms gripping the steering wheel stood on end. Previously, as a roadside photo stop or washroom break would come to an end, someone would say "the blue bus is calling us."
In my role as tour leader and driver, I was often asked where are we going? You can see where I am going with this…
One of the most brilliant ideas conceived for these camping adventure tours was the idea of the tour journal. It was a big fat hard covered artist's sketchbook that was shared by everybody in the van. It would get passed around and brochures from the Grand Coulee Dam or Deadwood City would be stuck on the pages.
Along with café receipts, traditional journal entries, elaborate sketches and doodles, very funny cartoons, a running dictionary of foreign words and cultural expressions like "flat out like a lizard on a log" or "you're as funny as Malcolm Fraser mate"… the Aussies always had the best turn of phrase to our ears.
Some folks kept their own journal of course and wrote postcards home when that used to be a thing. The shared journaling was in a way, a giant interoffice memo where subtle flirtations, criticisms and beefs would turn up. The group journal was a prized possession. So much so, that tradition required at the end of the trip, a lottery to take place, numbers drawn and some lucky fellow passenger would pack the journal in their backpack and head off to their corner of the world. This of course incentivized participation in the journal throughout the trip.
Travelling in the company of others in this way was a powerful experience that left indelible memories. Some of these adventures made it onto my reverse bucket list. One of the lasting memories is how this road trip diary, this group journal enhanced our experiences of each other and the road beneath the wheels and outside the windows of the blue bus.
Road Trip Inspired Journaling Prompts
By Lynda Monk, Director, IAJW.org
Have you ever gone on a group bus trip or tour of some kind? If so, write about your memories of this trip.
What is one of the favourite road trips you have ever been on and why?
If you were making a song playlist for a road trip today, what is one of your favourite songs you would include?  Look this song up and write the lyrics of it in the pages of your journal.
Is there a road trip you would like to go on at this time?  If so, where would you go? Would it be a solo trip or who would you take with you?
Have you ever been part of a group or shared journal? If so, what was that experience like?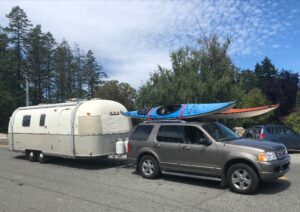 Some of my favourite road trips as a family have happened with our kayaks and trailer. We recently sold this trailer and are open to new road trips of a different kind that await us!