This is a guest blog post from IAJW Member and Life Coach, Vicky DeCoster
As a little girl, Dawn Beckler became accustomed to change. While growing up within a military and then missionary family, she lived in many different places that included the Philippines where she spent most of her childhood. While embracing and loving what she never thought of anything but a normal life, Dawn learned to appreciate different people and cultures. After attending college in the United States, marrying her husband, Scott, and teaching second grade for five years, Dawn decided to stay home with her three children without any idea that eventually her life's journey would lead her in a direction she never imagined.
After Dawn's brother and his family moved to India to work with an organization that rescues girls from sex trafficking, they formed a friendship with Priya, the general manager of Love Calcutta Arts. Dawn, who became intrigued with Priya's work with the female victims of sex trafficking, soon fell in love with the beautiful products they were creating that carried a meaningful message of hope. When her brother and sister-in-law presented Dawn with the idea of partnering with Priya, she was excited. Still unsure whether to proceed, Dawn took several weeks to pray, listen, and search within her soul for the answers. In 2018, Dawn took the plunge and began the process of founding the nonprofit, Kurinji Gifts.
The name was inspired by the Kurinji, a small flower native only to India that blooms en masse once every twelve years. "The flower is a reminder that God truly makes everything beautiful in its time," says Dawn. The mission of Kurinji Gifts is to enrich the women's lives by providing a way to sell handmade journals, pocket journals, blankets, and cards that, in turn, provide them with a fresh start, a renewed sense of dignity and worth, and a freedom that otherwise could not have been imagined.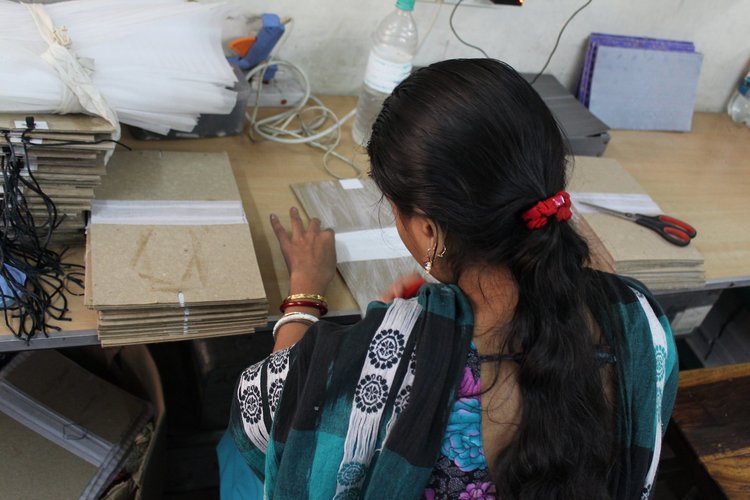 Handcrafting one of the beautiful journals
Each daughter of Calcutta carefully crafts the journals by hand using recycled materials. The hand-bound pages are made with reclaimed cotton fabrics and woolen blankets. The journals are covered with three layers of vintage sari material, the traditional garment of Indian women. Included inside each journal is a handwritten note to the recipient, presented in her native language of Bengali. The cards are handmade with layers of recycled paper or sari scraps and accentuated with beadwork. The blankets are hand-stitched with two layers of vintage sari material, embellished with a running kantha stitch. They are reversible, each side unique and beautiful.
Dawn says her biggest support group has been her brother and sister-in-law, whose advice and help has been invaluable, as well as her husband and family. "Their prayers and belief in me have been such an encouragement," she adds. Her initial challenges were deciding on a name, creating a logo, building the web site, and filling out the paperwork for a 501(c)(3). Now nearly a year later, Dawn says her favorite part of running a nonprofit is knowing that God brought her to this point and gifted her with the blessing of making a real difference in lives. No two days are alike for Dawn these days. In addition to raising her children and running Kurinji Gifts, she also works two days a week as a school receptionist and occasionally substitute teaches.
Throughout the last year, Dawn has learned to trust that she is in the right place at the right time, and thoroughly enjoys helping others understand the mission behind Kurinji Gifts. Dawn has inspiring advice for anyone wanting to pursue their passion in life, "Don't give up. Don't believe the naysayers. Choose carefully and wisely who you listen to. Don't wait to live until something better happens or comes along. Your life is today. Live it!"
For more about Kurinji Gifts and its important mission or to order any of its products, visit https://kurinjigifts.org/
***
Guest Author Bio:  Vicky DeCoster is a Certified Life Coach based in Omaha, Nebraska, who specializes in helping her clients both locally and nationwide to move past obstacles, create a plan for happiness, and cross the bridge of transition to find a new and fulfilling direction in life. To read more about her and her practice, visit her at crossthebridgecoaching.com
Vicky is also an IAJW Member.